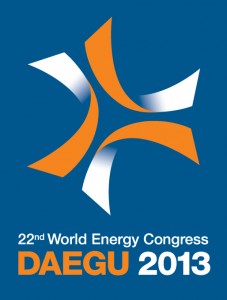 Daegu, South Korea – The Nigerian National Petroleum Corporation (NNPC) has dismissed insinuations that the recent spate of divestments from certain onshore oil blocks by some international oil companies (IOC) may lead to crisis in the nation's oil and gas industry.
Speaking to journalists on the margins of the on-going World Energy Congress in Daegu, South Korea, Group Managing Director of the Nigerian National Petroleum Corporation,  Andrew Yakubu, explained that the reported divestments are not only healthy for the oil and gas industry in Nigeria but would also go a long way in promoting effective indigenous participation in core upstream activities.
"These are not withdrawals in the real sense of withdrawals. The fact is that a number of these IOCs are moving into more challenging frontiers in the deep offshore and are leaving the onshore blocks which they consider less challenging," he said.
A statement from Tumini Green spokesperson of the NNPC, said the GMD noted that the major players that are divesting have actually been sitting on those acreages and have allowed them to go fallow for years without significant development.
"So it is only fair for them to release these blocks so that others, especially the indigenous operators can have the blocks and grow in the upstream business. This indeed is a good development and I think we are moving in the right direction," he said.
The GMD hinted that the divestment offers immense opportunities for the state's  indigenous flagship upstream operator, the Nigerian Petroleum Development Company (NPDC), to grow its capacity and capability especially as it strives to meet the aggressive target of daily crude production of 250, 000 barrels by 2020.
Andrew Yakubu, who is leading a team of Nigeria's oil and gas experts to the global energy meet, also submitted that the advent of the shale gas and oil revolution in America for now would not have serious negative impact on the nation's crude oil fortunes as earlier projected by some petroleum analysts.
"No doubt the shale gas phenomenon poses a pushback on our oil and gas, but the good news is that as we speak, the impact is going to come a very long time from now because a close examination of the various discoveries of shale gas shows a huge misalignment between what was projected and the actualization of most of the gas projects that would bring shale gas into full maturity,'' the NNPC chief executive noted.