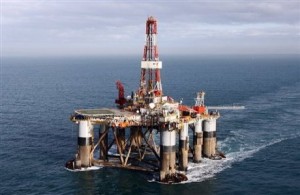 Lagos – Newcross Petroleum Limited, the Operator of Oil Prospecting Lease (OPL) 283 (formerly OML56) under a Production Sharing Contract with NNPC (as the concessionaire), has announced the Efe discovery with the support of Nigeria National Petroleum Corporation (NNPC) and the Department of Petroleum Resources (DPR).
Bashiru Idowu, the strategic team lead, New Cross Petroleum said, "the success of Efe-1ST is a confirmation of the support NNPC and DPR have expressed in newly emerging companies willing to significantly add to the national hydrocarbon reserves."
Mr Evi Otobo, one of the technical team leads said that EFE-1ST tested a four-way dip closure at the shallow levels gradually becoming fault-dependent hanging wall closures at intermediate to deeper levels.
At much deeper levels, the dip directions can change with closures moving to the footwall against south-bounding faults to explore EFE-main shallow, intermediate and deeper plays of the middle-upper Eocene reservoirs. EFE-1ST well is located in the Efe field of the OPL 283 block, which is in the Northern Niger Delta Depobelt. EFE 1ST was successfully drilled to a total depth of 14,086ft MD (12,720ft TVD) and encountered sixteen (16) hydrocarbon-bearing sands with gross hydrocarbon thickness of 648ft TVD.
Work is on-going to determine the size and commercial viability of this discovery. This discovery represents an important step towards unlocking the deep potentials in OPL 283. EFE-1ST will be temporarily suspended while the company moves ahead to drill EFE-B. OPL 283 is in the Northern aspect of the Niger Delta. Formerly known as OML56, the block has a total size of 1272 sq. km, with a number of marginal fields within the boundary of the acreage. The Production Sharing Contract is assigned to Newcross Petroleum and Rayflosh Petroleum.
Newcross Petroleum Limited, the Operator of OPL-283 has been in operation in Nigeria since 2004 as an exploration and production company. The Company is primarily focused on the upstream industry, harnessing exploration and production opportunities in the African continent with current emphasis on the Niger Delta Petroleum Province and the West African sub-region. Newcross acquired the interest of Centrica Resources (Nigeria) Limited and CCC Oil and Gas in two acreages in Nigeria.