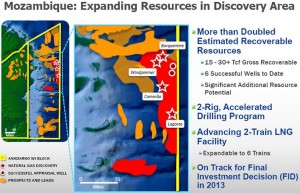 Maputo, Mozambique (Bloomberg) – Mozambique's national oil company plans to increase its share in fields operated by Anadarko Petroleum Corp. and Eni SpA as the country seeks a greater share of profit from the largest natural gas find in a decade.
"We are trying to see how we can increase our participation in the projects,"Empresa Nacional de Hidrocarbonetos' director of Engineering and Projects Engineering Paulino Gregorio said in an interview in the capital, Maputo. "Of course, we have financial constraints."
His remarks reinforce statements by chief executive officer Nelson Ocuane in June seeking to end speculation that Mozambique was about to sell to a foreign buyer. ONGC Videsh Ltd., a unit of India's Oil & Natural Gas Corp., later agreed to buy a 10% stake from Anadarko for $2.64 billion. ENH holds 15% of the Rovuma-1 field operated by Anadarko and 10% of four fields operated by Eni.
Anadarko's Texas-based spokesman Brian Cain declined to comment in an e-mail and Filippo Cotalini in Milan for Eni didn't immediately answer a call to his phone.
Mozambique plans to build four liquefied natural gas plants with a total capacity of 20 million metric tons a year by 2018. The development may cost $20 billion and could be the world's largest LNG export site after Ras Laffan in Qatar.
ENH will base its decision primarily on technical ability when it selects the winning bidder to build the gas plants and the pipelines connecting them to the field by the middle of next year, Gregorio said in the interview Nov. 6.
International Bechtel Co.; Chicago Bridge & Iron Company NV and Chiyoda Corp.; and a venture between JGC Corp. and Fluor Transworld Services Inc. are bidding to build the LNG plants, Gregorio said.
Underwater Infrastructure
Technip SA; McDermott International Inc. and Allseas Group SA; and Subsea 7 SA and Saipem SpA are bidding for the underwater infrastructure to bring the gas to the plants, he said.
A number of banks have approached ENH to help arrange financing for its stake in the project, Gregorio said, declining to identify any lenders.
Mozambique will develop an industrial zone around the LNG plants and build a 1,305-mile north-south pipeline to help nurture local industries, Gregorio said.
The government will probably announce a bidding round for new offshore exploration blocks once parliament approves a new petroleum law, currently being revised, Gregorio said.