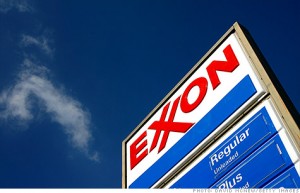 New York –  Exxon Mobil Corporation, the world's largest publicly traded oil company, expects oil and natural gas production to be flat this year as overall spending falls 6 percent to about $39.8 billion.
For 2014, oil and gas production is expected to be 4 million barrels oil equivalent per day (boed), little changed from last year, a figure that reflects lower spending and the divestiture of some assets, Exxon said.
Shares of Exxon fell more than 2 percent to $94.52 in morning trading on the New York Stock Exchange. Growth is expected to pick up from 2015 to 2017, when production is expected to grow 2 percent to 3 percent as major projects add an additional 1 million boed.
In recent years, Exxon and other large oil companies have invested record amounts on exploration and production projects that are required to boost profitable oil and gas output. Last year, Exxon spent $42.5 billion, an amount the Irving, Texas company describes as a peak. This year, Exxon said it expects to bring 10 major projects into production, most of them targeting more profitable crude oil or other liquids. "This is going to be a big year," Mark Albers, Exxon senior vice president told investors.
Reuters.