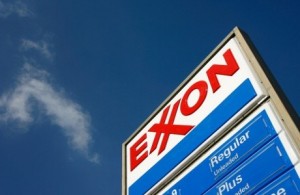 London (AFP) – US multinational oil giant ExxonMobil reported an 18 percent decline in quarterly profits Thursday due to weaker refining earnings, but results bested expectations as oil and gas output improved.
ExxonMobil, the largest US oil company, said third-quarter profits were $7.9 billion on revenues of $112.4 billion, down from $9.6 billion on revenues of $115.1 billion in the year-ago period.
Those results translated into earnings per share of $1.79, two cents above analyst estimates. Revenues bested expectations by about $5 billion.
The results "reflect our continued progress across a diverse set of profitable growth opportunities, which positions us well to deliver shareholder value," ExxonMobil chief executive Rex Tillerson said in a statement.
Over the last year, ExxonMobil shares have underperformed the broader market, as well as those of other oil companies like Chevron and ConocoPhillips, amid criticism that it is spending too much on costly projects while production has sagged.
But the market liked Thursday's results, sending the Dow component's shares up 1.5 percent, one of the best-performing blue chips.
Like other oil majors, such as Anglo-Dutch heavyweight Royal Dutch Shell, ExxonMobil was hit by weaker profit margins in the refining business.
Results for the segment nosedived to $592 million from $3.2 billion in the year-ago quarter.
However, ExxonMobil's oil and gas output registered a 1.5 percent increase thanks in part to project ramp-ups in Canada and Nigeria.
ExxonMobil had seen declines in production of 1.9 percent in the second quarter and 3.5 percent in the first quarter.
ExxonMobil's vice president of investor relations, David Rosenthal, said the latest results are a sign the company is on track to meet its target of boosting oil and gas production by 2-3 percent annually between 2014 and 2017.
"We are starting to deliver on the commitments we made and the projects we talked about," Rosenthal told an analyst conference call. "We're on track to deliver that big production volume."
Rosenthal said the big Kearl oil sands project in Canada, jointly owned with Canadian company Imperial Oil, was already pumping 100,000 barrels a day and that an expansion was on track.
A large Qatar natural project is due to start in late 2014, following other big company projects in the Middle Eastern country, while the company will also proceed with exploration and development projects in Russia.
In the US, the company is steering more investment toward oil drilling and away from natural gas given lofty supplies of the latter. Exxon has a huge inventory of shale oil and gas prospects, but most of its production to date has been in conventional oil and gas.
The company is "just really getting started" with more significant plans for hydraulic fracturing, or fracking, and other techniques to tap into the unconventional reserves, Rosenthal said.
On the downside, production on the giant Kashagan project remains suspended after a gas leak was found earlier this month. Production on the field, which has cost some $41 billion to bring on line and is running, years behind schedule, hit 80,000 barrels a day before the outage, Rosenthal said.
Rosenthal declined to forecast Kashagan production in the fourth quarter.
A recent Deutsche Bank report called on Exxon to reduce capital spending in favour of lifting its dividend by 15 percent.
Rosenthal said the company had no plans to alter its shareholder distribution plans in response to Wall Street pressure. The company spent $3 billion to repurchase shares in the third quarter and would buy back the same amount in the current fourth quarter.
"We are executing on the things we can control," he said.