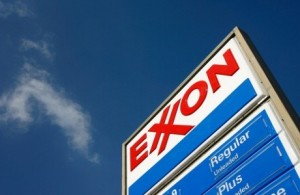 London, UK (AP) – American multinational energy giant Exxon Mobil's profit fell 16 percent from last year as the company produced slightly less oil and gas. But it still made more than $8.3 billion in three months.
The company earned less from producing oil and gas in the U.S. and overseas, and from its international refining and marketing business.
Exxon Mobil Corp. said Thursday that fourth-quarter net income was $8.35 billion, or $1.91 per share, matching Wall Street's forecast. That compares with profit of $9.95 billion, or $2.20 per share, a year earlier.
Revenue fell 3 percent to $110.86 billion, below the $114.51 billion that analysts were expecting, according to a FactSet survey.
Production of oil and gas dropped 1.8 percent.
In a statement, Chairman and CEO Rex Tillerson said disciplined investing and new projects were putting the company in position for sustained big profits.
"Over the next two years, ExxonMobil will start up numerous major projects delivering profitable new supplies of oil and natural gas while strengthening our refining and chemicals businesses," he said.
The Irving, Texas-based company spent $26 billion last year on dividends and buybacks that reduced the number of shares — moves designed to please shareholders.
As oil prices were stabilizing, Exxon's shares gained nearly 15 percent during 2013, about on par with fellow American rivals Chevron Corporation but trailing the broader indexes, including the Dow Jones industrial average.
In trading before Thursday's opening bell, Exxon shares were down $1.11 to $94.54.