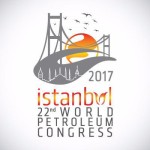 Turkey kicked off its promotion for the 2017 Congress at the 21st WPC in Moscow, Russia, 15-19 June 2014; with its stand activities, interviews, speeches and closing ceremony presentations. The Turkish delegation at the 21st WPC consisted of more than 100 delegates, from TP, government, national companies and universities.

At the closing ceremony, the WPC Symbol was handed over from Russia to Turkey after fantastic shows from Russia. The Congress Symbol inauguration by Russia Minister of Energy Alexander Novak to Minister of Energy of Turkey, Mr. Taner Yıldız was followed by colorful performances of Turkish folk dance ensemble.

The 22nd World Petroleum Congress will be held in İstanbul (Turkey) on 9-13 July, 2017.

During the 3 years period, WPC Turkish National Committee and the Organizing Team will be communicating all National Committees about the progress and the preparations.

Turkey welcomes all industry stakeholders to Istanbul in 2017 to the 22ndWPC!

Visit http://www.22wpc.com/  for more information.

The Nogtec Events Calendar is your leading source for conferences, exhibitions, tradeshows, roundtable discussions, and social events in the oil and gas industry. Posting an event to our events calendar is completely free. Register and post an event to our events board today!