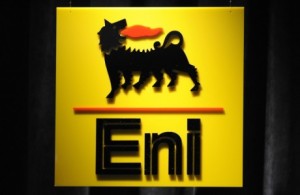 London, UK – Eni SpA, Italy's multinational oil and gas exploration and production company, said profit slumped 14 percent in the fourth quarter due to production halts in Libya and Nigeria.
Adjusted net income declined to 1.3 billion euros ($1.77 billion), Eni said in a statement today. That's higher than the 1.21 billion euro mean estimate of 17 analysts surveyed by Bloomberg. Oil and gas production fell 9.7 percent.
"Eni achieved solid results in a particularly difficult market," Chief Executive Officer Paolo Scaroni said in a stock exchange statement.
Eni, the biggest foreign oil producer in Libya, has been struggling with reduced output all year as power struggles between regions led to strikes and other disruptions. Production increases in Algeria and Egypt partly offset the negative impact of halts elsewhere, Eni said.
Eni said today it had discovered the equivalent of about 2.5 billion barrels of oil and gas off the coast of the Republic of Congo in West Africa.
The Rome-based company produced 1.58 million barrels of oil a day in the fourth quarter, compared with 1.75 million barrels a day a year earlier.
Eni said uncertainties remain in its 2014 outlook "due to weak growth prospects in the Eurozone and risks concerning emerging economies." The company sees the trading environment to remain "challenging" and sees "continuing weak conditions" for gas distribution, refining and marketing of fuels and chemical products in Europe.
Source: Bloomberg