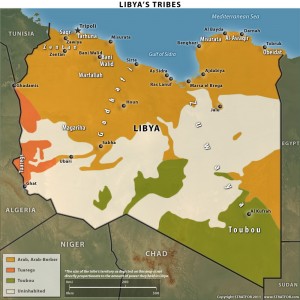 Tripoli, Libya (Reuters) – Leaders of a movement seeking autonomy for Libya's eastern Cyrenaica region said on Tuesday they could allow oil exports to resume on Sunday from several ports if Tripoli meets their demands and allows the region to take its share of crude.
Public pressure has been building on the movement seeking autonomy in the oil-rich Cyrenaica to reopen the biggest oil ports it seized as export have dried up the budget – Libya's lifeline.
But it was unclear whether three months of standoff with the central government would end as the movement, which demands a bigger share of Libya's oil wealth, warned it will sell crude on its own if Tripoli does not come through, the leaders said.
The government made no immediate response but has in the past threatened to destroy tankers exporting crude without its authorization.
The state National Oil Corp (NOC) cautiously welcomed prospect of reopening ports but warned it was too early to say what would happen. "We see this as a positive step but have to see whether the ports will actually reopen on Dec 15," NOC spokesman Mohamed al-Harari said.
Tripoli has refused to recognize self-declared eastern rule after the movement seized the Es-Sider, Ras Lanuf and Zueitina ports, which accounted for more than 500,000 barrels a day of exports until their seizures.
The eastern movement is made up of fighters who helped topple Muammar Gaddafi in 2011 and now demand a federal system that would share power between Cyrenaica, the west and southern Fezzan similar to the political system in the kingdom before Gaddafi.
"Oil exports will resume (on Dec. 15) under three conditions," Ibrahim al-Jathran, an autonomy leader, told a news conference broadcast by al-Naba station.
He repeated earlier demands on the Tripoli government to form an independent committee to investigate claims of oil sale corruption and another committee to group all three Libyan regions to share the oil wealth.
"The Brega (Cyrenaica in Arabic) will take its rights as guaranteed by the oil-sharing law of 1958," he said, while supporters cheered.
Reuters was unable to reach Jathran but the prime minister of his self-declared regional government, Abd-Rabbo al-Barassi, confirmed by phone Tripoli would have to meet conditions before oil would flow again.
Oil Minister Abdelbari al-Arusi had said last week the ports would reopen on Dec 10. A government deadline to end the blockage had passed last month without any action.
Divisions
Libya is facing turmoil as the government of Prime Minister Ali Zeidan struggles to rein in militias and tribes who ousted Gaddafi but have kept their weapons and now control parts of the desert country.
Zeidan has been trying to get the oil ports reopened but has been weakened by political infighting with parliament and Islamist opponents.
One problem is that the government has to deal with a large front of different protesters. Apart from Jathran's movement a separate set of tribal leaders has blocked the Hariga oil port in Tobruk in the far-east. Members of the Amazigh and Tibu, two minority groups, have also in the past blocked gas or oil supplies to get their languages guaranteed by the new constitution.
Barassi told Reuters by phone the movement was ready to sell crude on its own from Dec. 15 if Tripoli did not meet the demands, something Jathran did not appear to be saying in his brief statement.
"We have the contacts with the firms to sell it," Barassi said. Another member of his self-declared government, Essam al-Jihani, also said the movement would sell crude on its own from Sunday if Tripoli did act by Sunday.
But a third person, Salah al-Ateiwich, a leader of the Magharba tribe making up the backbone of the port blockers, said it would be difficult to sell oil bypassing Tripoli, a view shared by oil insiders.
"In my view it would be hard to sell oil to foreign companies because legally the state has a claim on it," he said by phone.
He also sounded optimistic Tripoli would make concessions to restart oil exports on Sunday.
Libya's output is at 250,000 bpd, a fraction of its 1.4 million bpd in July, its oil minister said on Saturday. His deputy said a week ago up to half of the output is used to keep the Zawiya refinery going to keep petrol stations running.
Oil is the main source of funds for the budget and dollars needed for food imports.