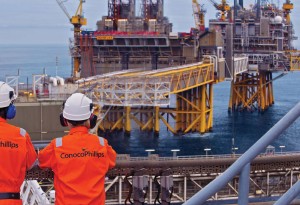 Houston, Texas – ConocoPhillips has completed the sale of its Algeria business unit ConocoPhillips Algeria Ltd. to Indonesian state-owned Pertamina for $1.75 billion, resulting in $1.65 billion in proceeds. The sale was agreed in December 2012.
ConocoPhillips Algeria owns interests in three onshore oil fields on or partly on Block 405a, with total production net to ConocoPhillips of 11,000 boe/d. The unit operates the Menzel Lejmat North field with 65% interest. Its other interests are Ourhoud 3.7% and nonproducing EMK 16.9%.
In November 2012, ConocoPhillips agreed to sell 8.4% interest in the North Caspian Sea production-sharing agreement, including Kashagan offshore oil field, to India's state-owned ONGC Videsh Ltd.
However, the Kazakhstan government pre-empted the bid under the country's subsoil law. State-owned KazMunaiGaz instead agreed to buy the interest, the proceeds of which ConocoPhillips expected to remain at $5 billion.
The moves are part of ConocoPhillips's 2012-13 disposition programme to "increase value for shareholders through focused capital investments."
From 2012 through third-quarter 2013, the company has generated $12.4 billion in divestiture proceeds, which may be used for general corporate purposes, including investments in its organic growth programs, ConocoPhillips said. The company originally set a target of $8-10 billion by Dec. 31.
As of Sept. 30, ConocoPhillips had operations and activities in 29 countries, $55 billion in annualized revenue, and $120 billion of total assets.