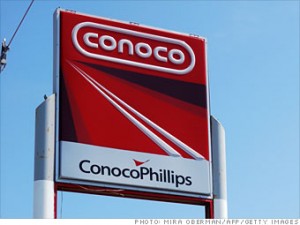 New York, U.S  – America's largest independent oil and gas company, ConocoPhillips said its fourth-quarter earnings rose 74 per cent, boosted by a gain from the sale of its Algeria business, while revenue and production declined.
ConocoPhillips has been selling non-core assets to focus on those with higher returns, such as fast-growing United States shale formations. In the recently ended quarter, ConocoPhillips completed asset sales for proceeds of $US7 billion, including the strategic sale of its interest in the Kashagan and the Algeria business. For 2013, ConocoPhillips received $10.2 billion in proceeds from asset dispositions.
ConocoPhillips reported a profit of $2.5 billion, or $2 a share, up from $1.43 billion, or $1.16 a share, a year earlier. Excluding asset-sale impacts, asset write-downs and other items, adjusted earnings from continuing operations fell to $1.40 from $1.43. Total revenue and other income fell 15 per cent to $13.99 billion.
Analysts polled by Thomson Reuters expected a per-share profit of $1.31 and revenue of $15.13 billion.
Production fell 5.9 per cent on an oil-equivalent basis during the quarter, mostly owing to normal field decline, the impact of a disruption in Libya and weather-related downtime. Total average realised prices fell 3 per cent.
At year's end, the company's estimated proved reserves were 8.9 billion barrels of oil equivalent, up 3 per cent from a year earlier. Proved organic reserve additions for 2013 are estimated at 1.1 billion BOE, representing an annual organic reserve replacement of 179 per cent. Asset dispositions completed last year reduced reserves by 188 million BOE.
The reserve additions represent a continuing shift toward higher-value liquids, which comprised 60 per cent of the reserve additions. An additional 15 per cent were tied to liquids pricing through liquified natural gas.
ConocoPhillips spun off its refining arm as Phillips 66 in 2012 as part of a multiyear revamp aimed at improving the company's finances. On Wednesday, Phillips 66 reported that while its fourth-quarter earnings rose 17 per cent, refining margins fell across most regions.
Source: Dow Jones Newswires