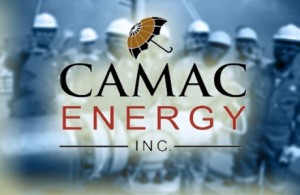 London – CAMAC Energy Inc. agreed to pay as much as $707.6 million in stock, cash and convertible debt to acquire the 90% stake it didn't already own of two deepwater oil leases off the coast of Nigeria from Allied Energy plc.
Allied Energy is a unit of CAMAC Energy Holdings Ltd., which also owns a 57.2% stake in publicly traded CAMAC Energy Inc.
After the acquisition, CAMAC Energy Inc. will have a 100% stake in oil mining leases 120 and 121 including the Oyo Field in offshore Nigeria, the Houston-based company said in a statement on Wednesday.  Current production from the Oyo Field is about 2,000 barrels of oil a day and 40 million cubic feet of natural gas. CAMAC Energy Inc. currently controls just 10% of that.
"This strategic acquisition is a transformational event for our company, and significantly increases our current production and cash flow," CEO Kase Lawal said in the statement. "With this acquisition, we will be transitioning our company from a minor economic interest holder into a significant growth platform targeting the prolific Pliocene and Miocene reservoirs in this region."
With a 100% economic ownership of the "high-impact, deepwater offshore assets, we will be well positioned to pursue our goal of producing approximately 14,000 barrels of oil per day once Oyo-7 and Oyo-8 are completed next year," he said.
CAMAC has recently said it expects to begin production of 7,000 barrels of oil a day from Oyo-7 in June and another 7,000 barrels of oil a day from Oyo-8 shortly thereafter.
CAMAC Energy Inc. will pay $170 million in cash and issue about 497.5 million shares in the transaction. The shares would be worth about $487.6 million at their closing price on Tuesday, Nov. 19.
The stock, which trades on the New York Stock Exchange under the symbol CAK, rose 4 cents to $1.02 on Wednesday after the transaction was announced.
CAMAC Energy Inc. also is issuing a $50 million note to Allied that is convertible into 69.8 million shares.
CAMAC will be immediately cash-flow positive as a result of the transactions and expects to be profitable in 2014, spokesman Chris Heath said.
To fund the cash portion of the purchase, CAMAC is raising $270 million in a private placement of stock to South African government-owned investment company Public Investment Corp.
CAMAC agreed to seek a listing on the Johannesburg Stock Exchange as part of the private-placement financing.
Public Investment will buy 376.9 million CAMAC shares priced at 71.6 cents each in the transaction. That was a 26.9% discount to the price where CAMAC shares closed on Tuesday, Nov. 19.
The $270 million CAMAC is raising in the private placement is more than the stock market value of the company, which stood at $153.9 million before the deal was announced.
"We are honoured that the PIC has placed their trust and confidence in us by investing in our organization," Lawal said. "The Allied acquisition, investment by the PIC and secondary listing on the JSE will completely change the complexion of our company, and we look forward to beginning 2014 as a stronger organization with increased production, revenues and scale. Being dual-listed on the NYSE and JSE will provide increased liquidity and transparency for our shareholders."
CAMAC had cash and cash equivalents of only $435,000 as of Sept. 30 after losses totalling $10.9 million through the first three quarters of 2013.
The company also agreed to declare a dividend in the form of additional shares of stock, equal to about 1.435 shares per share outstanding. The declaration of the stock dividend and issuance of about 225.1 million shares will not occur if the conditions to the transactions are not fulfilled, CAMAC said.
Of the 225.1 million shares to be issued in the dividend, 128.7 million will go to Allied, with the balance going to public shareholders.
After the Allied and Public Investment transactions and the special dividend, Allied and its controlling shareholders will own about a 57.15% stake in CAMAC Energy. Public Investment will own about 30% and CAMAC's existing shareholders not affiliated with Allied will own about 13%. Those percentages do not include 69.8 million shares that CAMAC may issue in the conversion of the note it is placing with Allied. Including those shares, shareholders not affiliated with Allied will own about 12.3%.
Canaccord Genuity Ltd acted as CAMAC's financial adviser and John Clutterbuck, Geoffrey Walker, Tammy Brennig and Charles Hornberger of Andrews Kurth LLP acted as legal counsel to the special committee of CAMAC's board. Nicolas Evanoff is general counsel to CAMAC. Partners Jim Rice and Michael Hyatte, and associates Tom Leslie, Garner Meads, Tommer Yoked and Anna Ha of Sidley Austin LLP are acting as legal counsel to CAMAC. Vinson & Elkins LLP is acting as legal counsel to Allied.
Sasfin Capital is acting as corporate adviser and sponsor in connection with CAMAC's secondary listing on the JSE.